Price: from US$2100
Over the last year or so 2-in-1 laptops have really come into their own – Microsoft's Surface Book 2 (which is due out in the Middle East later this year) set the standard with its detachable screen, while the excellent Dell XPS 13 2-in-1 nabbed the prize as runner-up Computer of the Year in our own Stuff Middle East Gadget Awards.
The Lenovo Yoga 920 looks to follow that trend, offering a premium design in a light and functional laptop that can double as a tablet on a whim. But with a pretty hefty price of entry for even the basic model, does it do enough to set it apart from the competition?
DESIGN & BUILD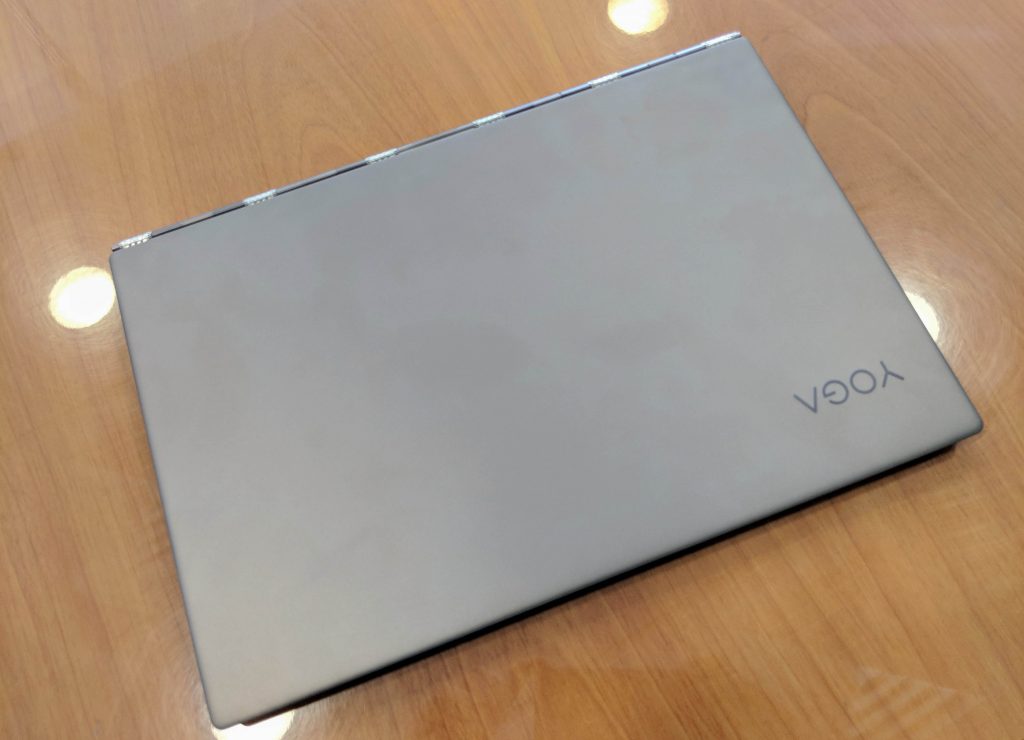 If you're shelling out over $2000 for a laptop you're going to demand a certain level of build quality, and thankfully Lenovo have nailed it with the Yoga 920.
Measuring just 13.95mm thick and weighing 1.37kg, it manages to combine a good hefty feel while still remaining fantastically thin and light. The bronze metallic finish of our review unit made it feel and look super premium, although be wary that it had a tendency to easily attract unwanted fingerprint smudges.
Lenovo have once again brought back the watchhinge design that the Yoga line popularized, and rightfully so. It's a cool look that not only sets it apart from competitors, but has a practical application as well: the hinge is strong enough to let you angle the screen back without the bottom of the laptop tipping up.
The hinge is also robust enough to easily allow the Yoga 920 to flip into its multiple configurations without feeling like it's going to buckle under the stress. If you're anything like us, the two that you're probably going to get the most use out of are the regular clamshell mode and utilising the 13.9in touchscreen as a tablet. The hinge allows you to bend the keyboard all the way back, transforming the laptop into a perfectly usable tablet. It is a bit awkward to hold, however, as the keyboard remains there with the individual keys still touchable. Thankfully, Lenovo does deactivate them so that they don't cause havoc when using it as a tablet.
A major design change from last year's Yoga 910 is that the placement of the laptop's webcam has now moved to the to top the screen, rather than sitting in the bottom (admittedly large) bezel where it would result in rather unflattering views. Hooray for no more up-the-nose shots!
One of the compromises brought about by the thinness that Lenovo have managed to achieve with the Yoga 920 is a reduction in ports – you only get two USB-C ports (both of which can be used to charge), a full size USB 3.0 port and a 3.5mm headphone jack. This is not ideal for those who have a lot of accessories, but in our testing we actually found that it wasn't a huge deal. We could easily charge the laptop and our USB-C powered smartphone while simultaneously hooking up a mouse or plugging in a memory stick.
If you have a stack of USB devices you need to hook up you'll want to invest in some kind of adaptor but otherwise you're still getting more ports than you would on a MacBook, for instance.
SCREEN & SOUND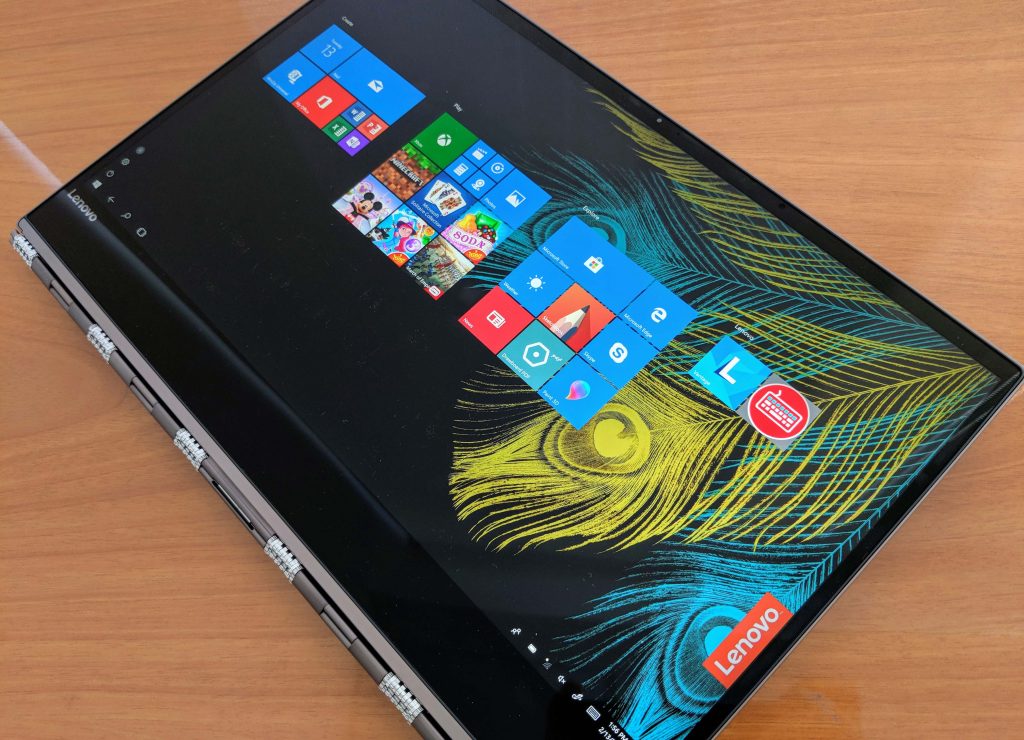 The model we were seeded for review featured a 13.9in Ultra HD screen and we couldn't be more impressed by it. Text was crisp, with pictures and 4K video coming across bright and vivid, positively popping with colour. We particularly liked the deep blacks it showed off when watching something as dark as Netflix's Daredevil – there was little to none of the noise that you'd find on a lesser screen.
Lenovo did leave a rather large bezel at the bottom of the display which seems a tad unnecessary. It's clearly a design choice on their part, but we couldn't help feeling that shrinking it a little would have left the Yoga 920 with a lot more screen real estate, and considering how lovely said screen is, we doubt anyone would have complained.
Under the front of the Yoga 920 sit a pair of stereo JBL-branded speakers that are powered by Dolby Audio Premium. That's an awful lot of marketing hype, to be sure, but what it does result in is a laptop that sounds fuller and more powerful than it has any right to considering how thin it is. Both music and video sound surprisingly great on this thing, and while the built-in speakers are certainly no substitute for a good pair of desktop speakers (or even headphones) they will do nicely in a pinch for a Altered Carbon binge in bed.
KEYBOARD & TOUCHSCREEN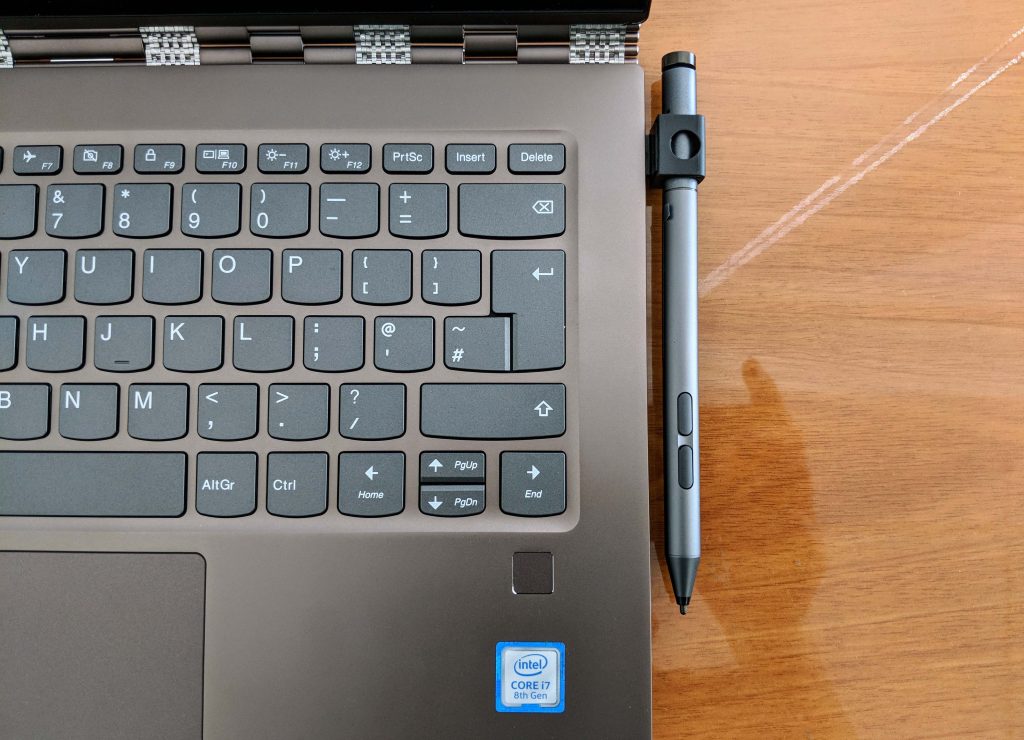 The Yoga 920 features a full-sized keyboard and trackpad that were both a pleasure to use. While the keyboard was definitely a little shallower than we'd have liked (again, a compromise of getting this thing as trim as it is) we didn't struggle to type on it and found the key travel to be totally serviceable. There is also a fingerprint sensor found under the bottom right of the keyboard that was responsive and lightning quick in use.
Apple has always been the king when it comes to trackpads, with Windows machines struggling a bit by comparison. It's again the case here where, compared to a MacBook Pro, the Yoga 920's trackpad had a few mystery jumps across the screen and random stops, but overall these were negligible enough that it didn't impact our experience to any great effect.
The other input method of this machine is, of course, its touchscreen. All 13.9 lovely inches can be used to poke about Windows 10's powerful OS in either tablet or regular laptop mode. We found the touchscreen to be responsive and a breeze to use, whether that was with our fingers or the bundled stylus.
STYLUS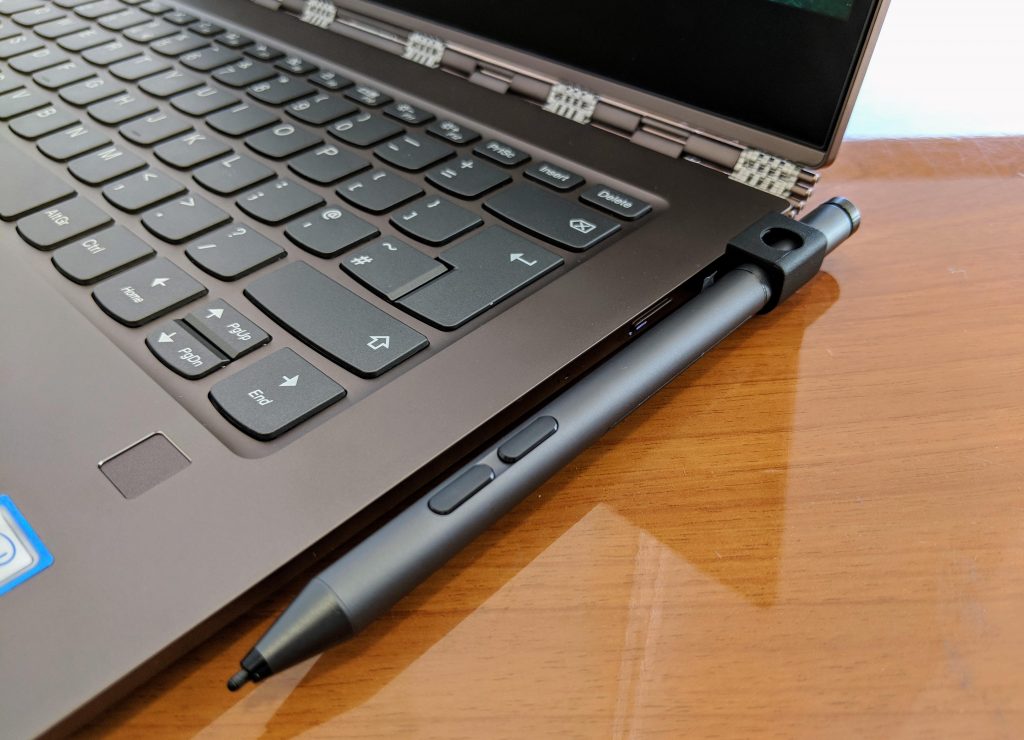 Speaking of the stylus, yes Lenovo made the (we think) right choice of including its Active Pen in the price of the Yoga 920. Other companies (we're looking at you Microsoft) have chosen to charge extra for the privilege and that only serves to drive the overall price up for those looking for a full 2-in-1 experience.
The stylus itself is battery-powered, lightweight and has a sleek design. Even with a battery inside we felt it could have been a smidge heavier, but its lack of weight certainly didn't detract from its usability.
Thanks to the Yoga 920's fantastic screen, the stylus can detect a sizeable 4096 levels of pressure, meaning you can press hard or soft depending on your needs and the laptop will respond accordingly.
We weren't massive fans of the way that the Active Pen attaches to the Yoga 920 for storage. This is via a plastic gubbin that slots into the USB 3.0 port that the stylus then slides into. It felt like a bit of a cheap solution compared to other manufacturers who use magnets to achieve the same result.
PERFORMANCE & BATTERY LIFE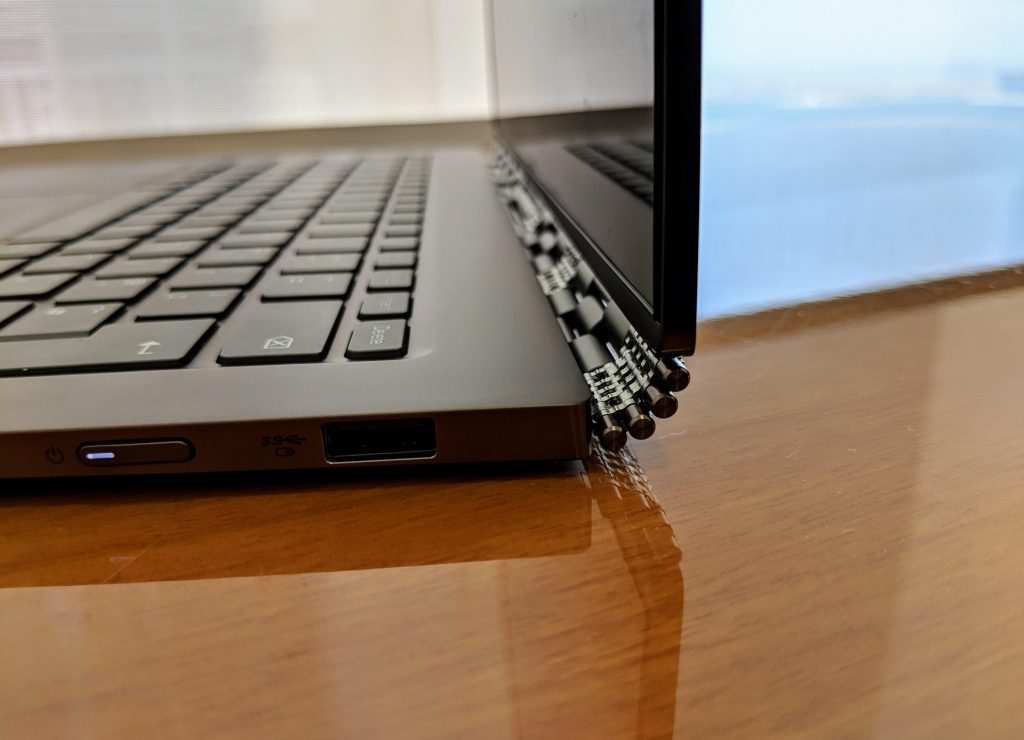 Our review unit was significantly specced out running the latest Intel Core i7 processor with 8GB of RAM and a 512GB HDD. With grunt like that behind it, the Yoga 920 had no trouble whizzing about Windows 10 managing web browsing (with a healthy number of tabs open), word processing and video/audio playback with ease. The fans would occasionally kick in when things got a bit intensive, but this wasn't often enough for it to be an issue.
One thing that is absent from the Yoga 920 is a dedicated graphics card. That means that this is not the machine to look to if you want to play the latest triple A games or do video editing on. The integrated graphics chip can handle older games just fine and didn't give us any issue with day-to-day tasks but if you're looking for a sleek laptop to game on, however, the Yoga 920 is probably not the right choice.
In terms of battery life we managed to eek a good 10 hours of regular usage out of the Yoga 920. That's a little shy of the 12 hours that Lenovo promises in its marketing, but is by no means anything to scoff at. Keeping the brightness at around 70 per cent and running medium intensive tasks should see you through the day with an impressive level of stamina.
We did notice that the the laptop does get quite hot underneath when charging, so you might want to avoid placing it near anything that might be at risk of melting, like say a chocolate bar.
LENOVO YOGA 920 VERDICT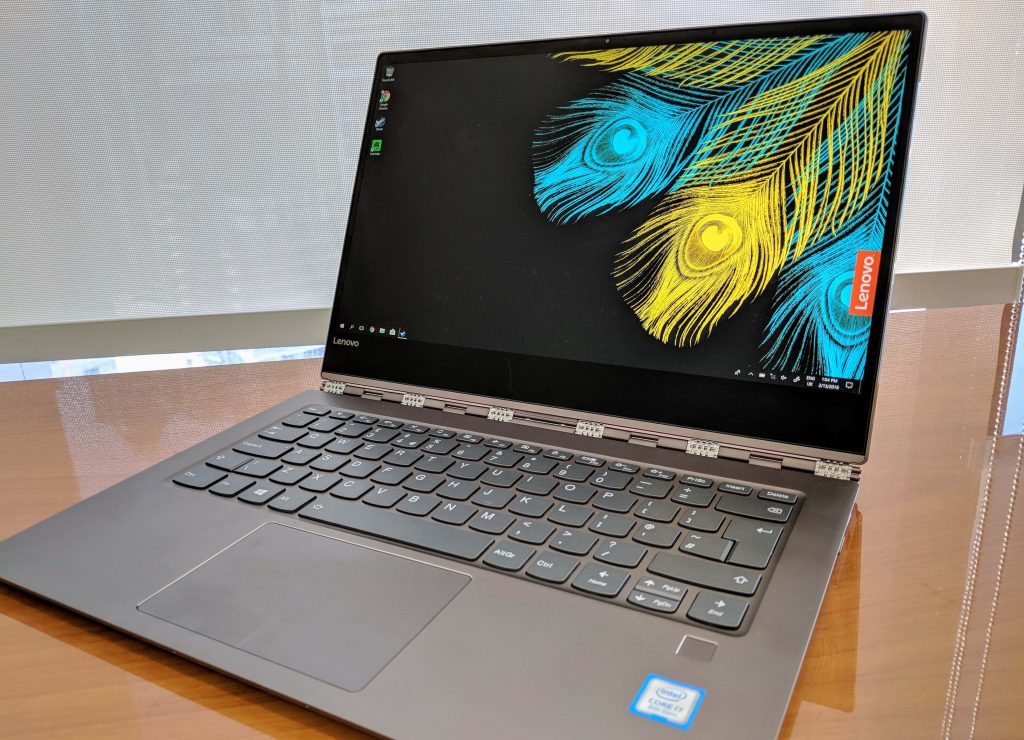 While the lack of a dedicated graphics chip means you won't be using the Yoga 920 to play the latest games, it manages to do everything else at breakneck speed in any of the multiple modes that you can contort it into.
For us, that makes the Yoga 920 a solid win for Lenovo. Its combination of a UHD touchscreen, premium design, high-level specs and a great (and bundled) stylus make it a worthy contender when it comes to picking out a 2-in-1 laptop from an already crowded pack.
STUFF SAYS
Score: ✭✭✭✭✭
A gorgeously designed and versatile laptop that is worth every penny you pay for it
Comments
comments