Price: US$tba
Fujifilm's X Series cameras have been on a retro roll since 2011's classic X100. But despite being mirrorless revelations, they've always had two 'missing' features: pro-quality video chops and in-body image stabilisation.
Well, it seems tech companies make new year's resolutions too, because Fuji has added both to one flagship X Series camera for 2018 – the X-H1.
This means you should immediately sell the cat and pre-order one, right? It's not quite that simple.
The X-H1's predecessors didn't exactly overlook those 'missing' features. Style-hounds like the X-T2 an X-T20 simply prioritised incredible portability and cracking still images. This worked out quite well – they won our System Camera of the Year Award in 2016 and 2017 respectively.
But the X-H1 is a different beast entirely. Aimed at pro snappers who increasingly need to shoot top-notch video with their stills, it's the biggest and most expensive X Series yet, and comes flanked by some new X Mount cinema lenses that cost over twice as much as the camera body itself. Crikey.
This kind of pedigree puts it into the mirrorless all-rounder territory prowled by the likes of the Panasonic G9 and Sony A7S II. Is it up to the fight? We took one on an urban safari around Lisbon to find out…
DESIGN: FULL METAL JACKET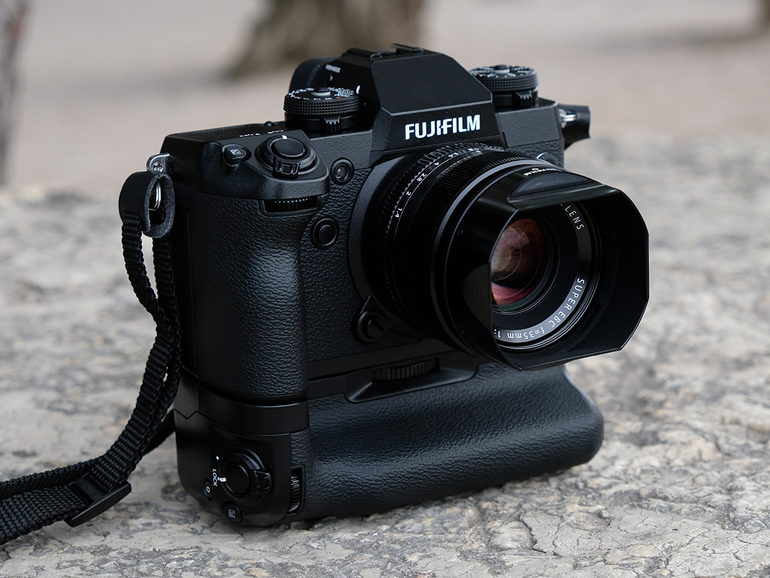 The X-H1 is a bit like the rugged lovechild of an X-T2 and GFX 50S, if slightly more handsome than that sounds.
While it's more like the former on the inside, the body is effectively an APS-C version of Fuji's Medium Format camera.
This means you get a meatier grip than on the X-T2, which helps when wielding bigger lenses, and a little, customisable LCD on the top plate where you'd normally find an exposure compensation dial. This always-on panel is very handy for glancing at settings and battery life.
Don't worry about a lack of dials, buttons or joysticks though – you get dedicated dials for shutter speed and ISO, with aperture usually tweaked via a lens ring. Unlike the X-T2, it also has a 3in touchscreen for negotiating menus and picking focus points.
The main thing you notice when picking up the X-H1, though, is how well built it is. The water-resistant body is made from a much thicker magnesium alloy than the X-T2 and you can really feel it – this thing has seemingly been designed to survive Steve Austin's Broken Skull Challenge.
It feels nicely balanced, though, and is still only two thirds the weight of a DSLR like the Nikon D850.
Two other big bonuses are the excellent viewfinder and quieter mechanical shutter. Super-sharp EVFs are close to becoming the norm on mirrorless cams, but the X-H1's is one of the best I've had the pleasure of raising to my eye. And that whisper quiet shutter is also a boon if you're trying to avoid alerting subjects, human or otherwise.
Perhaps the only slight physical downer on the X-H1 is the shutter release button, which is pretty sensitive. I initially took quite a few accidental photos and videos when trying to half-press, though I quickly got used it as the day wore on.
Something else I came to rely on was the optional battery grip (for extra if bought with the camera). Given the X-H1 is targeting pro snappers, this seems like an essential add-on thanks to its ability to add two more batteries, which boosts its life from a fairly average 310 shots to around 900. This saw it last my full day of intense shooting with a bit to spare.
FEATURES: STEADY AS SHE SNAPS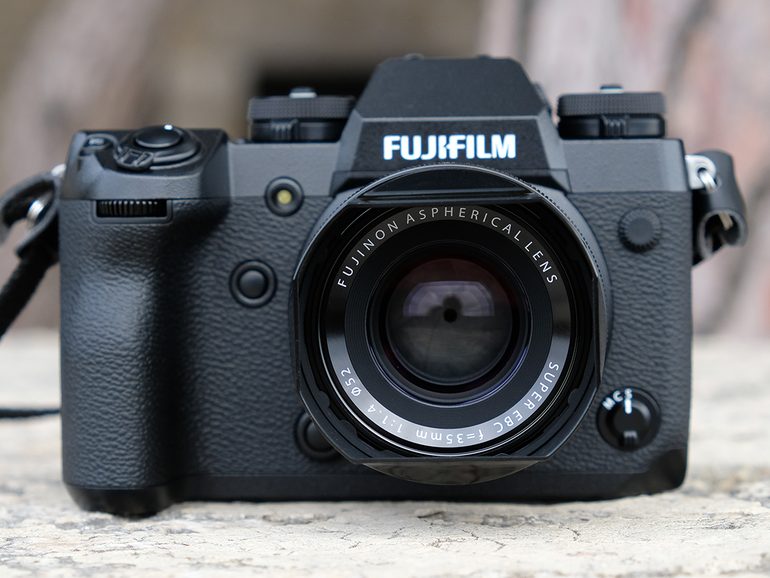 The X-H1's headline-grabber is that in-body image stabilisation, which makes it a much more versatile handheld shooter than its X Series stablemates.
This 5.5-stop stabilisation works with all XF and XC lenses too, so if you've already started a collection then Fuji's new flagship will be a seriously tempting step up.
It really excels at handheld snapping, even in low light situations where the X-T2 and X-T20 would struggle. I took some tunnel shots at night with a 35mm f1.4 lens and was able to retain some good sharpness even at relatively slow shutter speeds, which really opens up its creative possibilities.
Naturally, the stabilisation is also a boon for video. The X-H1 doesn't go all out like the Panasonic GH5S in this department, with 4K videos topping out at 30fps and a max length of 15 minutes without the battery grip.
But unlike the X-T2 you do get Face Detection in 4K, a 200Mbps bit-rate for more detail, and the option of recording 120fps slow-mo footage in Full HD. Combine this with the new stabilisation and some lovely cinematic filters like 'Eterna' (which, as one Fuji rep said, makes everything look like The Godfather), and you have some pro-friendly video skills to match the X-H1's stills prowess.
One other feature that Fujifilm has fine-tuned for the X-H1 is autofocus. Not that this has been a particular weakness for X Series cameras, who practically dare you to try and take a bad shot.
But some improved phase detection in low light promises to help in gloomier conditions, while the continuous autofocus is now also much happier when being used in tandem with zoom, making potentially even stronger than the X-T2 at tracking fast-moving kids, sports and rats at the local drainpipe races.
PERFORMANCE: SHOOTING STAR
Beyond the in-body stabilisation and autofocus tweaks, the X-H1 has the same photo-taking engine as the X-T2 – which means it's shaping up to be one of the best stills shooters around.
The 24.3MP X-Trans sensor that both cameras share has long been lauded for its noise control, and it again performed well across a range of dingy locations, even with the ISO dial down at the lower end.
But it's the X-H1's stabilisation that really helps you take these existing stills skills to new and exciting places. With sharp handheld shots now possible in the gloomier corners of weddings, travel ventures and wildlife shoots, this is a camera to tempt both pros and ambitious amateurs looking enviously from behind their already excellent X-T2s.
I'll need to spend a little more time with the X-H1's video skills, but it again looks a big step up from its X Series cohorts. Of course, there are much more capable video-recording system cameras out there – not least the Panasonic GH5S, which we've just lauded as the 'best CSC for serious filmmakers'.
But if Fujifilm's aim was to give its stills snappers a very credible video camera in one X Series body, then its looks to have succeeded with the X-H1.
FUJIFILM X-H1 EARLY VERDICT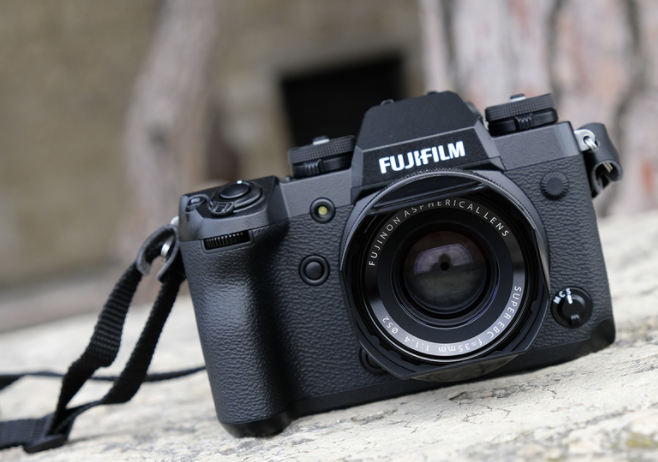 The X-H1 is certainly worthy of its status as the X Series' new team captain.
It might not have the style or crossover appeal of its X-T siblings, but that in-body image stabilisation could make it the definitive mirrorless camera for pros or hobbyists looking for a handheld snapper that excels in low light.
Those who primarily shoot video will perhaps still be better off with the Panasonic's GH5S or G9, with the latter's speed making it a cracking choice for action or wildlife photography.
And the big question remains whether Fuji will bring in-body image stabilisation to the more stills-focused X-T3, which is rumoured to be arriving later in 2018.
But if you want a mirrorless APS-C all-rounder right now and are already invested in X Series lenses, the X-H1 is going to be hard to beat all year. Look out for our full review before its release in early March 2018 very soon.
Comments
comments