Price: US$420
Sony has always been a great choice for anyone looking for a new phone on a tight budget. Why? The trademark Xperia design.
That look has stayed roughly the same for years now, so unless you're a proper mobile nerd, you simply can't tell 'em apart. No-one knows whether you're rocking a crazy expensive flagship or not.
That's still true of the Xperia XA2 Ultra, Sony's latest affordable big-sized blower. A few more curves than last year's model might not set pulses racing, but the top-spec camera and uprated hardware underneath is definitely worth your attention.
DESIGN & BUILD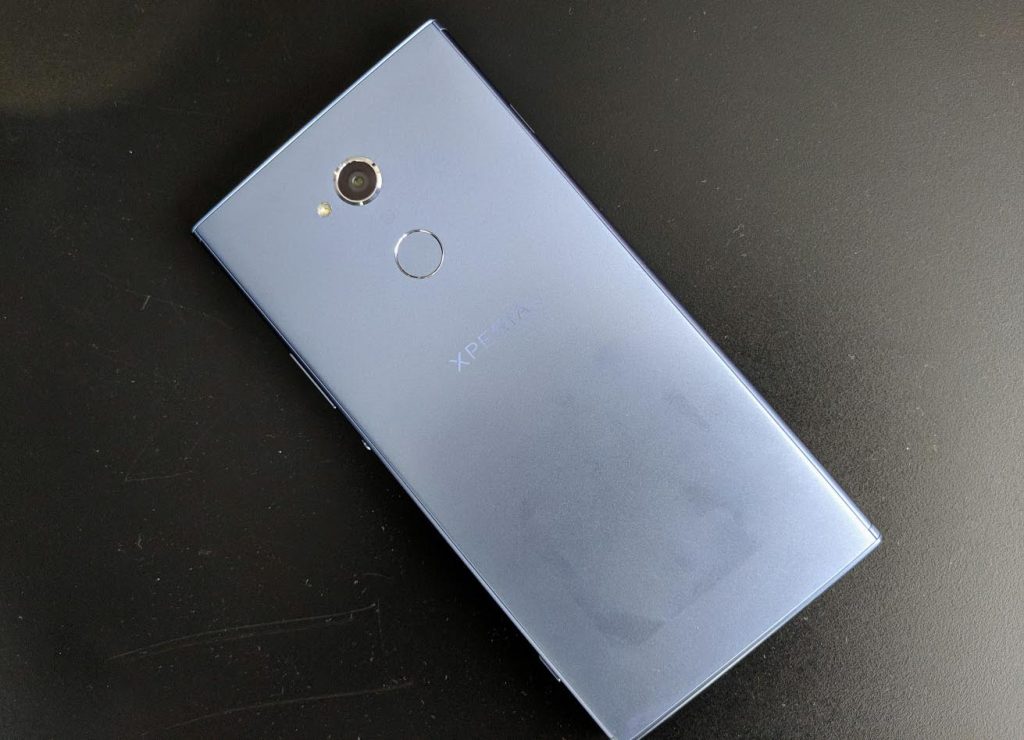 Chunky top and bottom bezels? An angular design? Check and check – the XA2 Ultra is definitely an Xperia. The sides are a little curvier this time around, though, and the back has a slight curve so the phone sits more comfortably in your hand.
The back panel might be made from plastic, but you wouldn't know: it has a premium-feeling finish that you could easily mistake for metal.
The frame actually is made from metal, adding the tiniest bit of bling to an otherwise familiar design. The XA2 Ultra is a little chunky, admittedly, but that should mean it's easy to keep hold of. Skinny phones are great, until they slip out your mitts and crack on the pavement.
A 3.5mm headphone port and USB-C charging are both welcome inclusions, meaning there's no messing around with dongles and old cables. Neither are a guarantee on mid-range phones any more.
The biggest change is the fingerprint sensor, which is usually built into the power button on Sony's more expensive models. Here, though, you get a dedicated scanner on the back panel, just below the camera.
This'll come as great news for Americans. Sony has never sold a phone with a fingerprint sensor in the USA before, either to appease US mobile networks or because of a secret exclusivity deal – but either way, the XA2 Ultra (and the smaller XA2) will be the first time the Yanks can actually unlock a Sony phone with their digits.
We're still big fans of the old setup, which was convenient and made Sony's phones stand out – but at least the sensor is easy to reach without stretching your digits, and isn't so close to the camera you'll constantly be smudging the lens.
CAMERA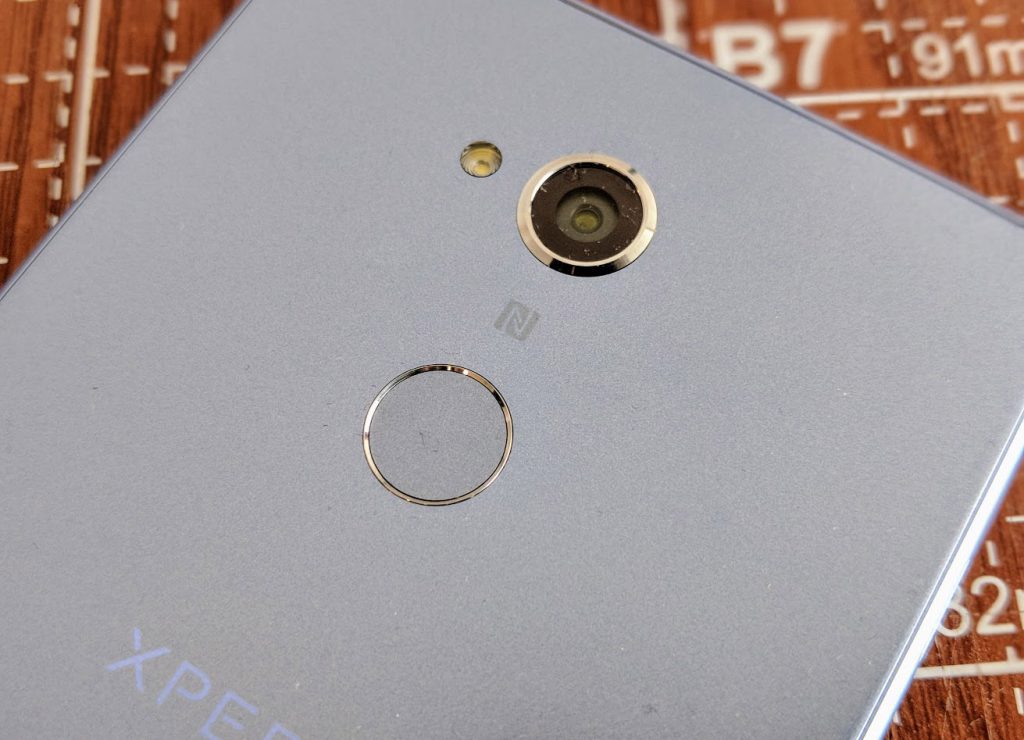 That's definitely something you'd want to avoid, because Sony has graced the XA2 Ultra with the same rear snapper as the flagship XZ1. That means a whopping 23MP, f/2.0 Exmor RS sensor, only you're not paying big bucks to get it.
All the shooting modes carry over, meaning you get Superior Auto that can doing all the heavy lifting for you, and a manual mode for complete customisation, along with 4K video and 120fps slow motion recording. The physical camera shutter button really hammers home how important Sony sees mobile photography, too – it's much more natural than tapping a screen.
As you'd expect, given the pixel count, the XA2 Ultra packs in the detail if you feed it enough light. The Superior Auto mode is usually very good at recognising scenes, cranking up saturation and contrast when required, and there's a decent amount of dynamic range. The phase-detect autofocus was quick to lock onto subjects, and pics are saved in double time.
Sony does tend to favour ultra-vivid images, so your snaps won't always line up with reality. Flowers in particular can end up looking a lot punchier onscreen than perhaps we'd like. Colour noise is visible if you zoom right into your snaps, but for the most part, it's a very capable setup.
Low-light shooting is handled very well, too. Detail isn't a problem, and exposure can be very good too, although the noise reduction settings can strip out and smudge some of the finer points of your pics.
HDR can't be toggled on by hand unless you're in Manual mode, with the Backlit Scene mode doing a similar job when you're shooting in Auto. The effect can be a bit full-on, though. It couldn't always balance exposure with tricky lighting, leading to some blown out highlights. Even so, there aren't many rivals that take pictures with more clarity.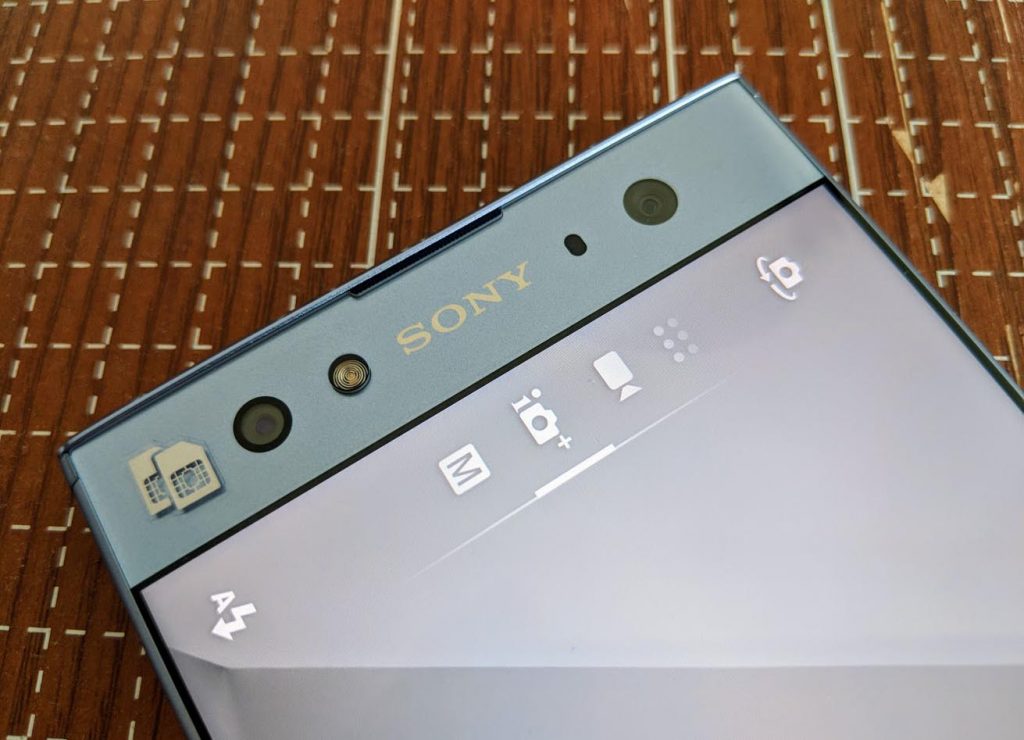 The front snapper is where Sony have differentiated themselves from the regular-sized XA2. This Ultra version features a dual-camera setup of 16MP + 8MP, with the former offering Optical Image Stabalisation for better low-light performance. The 8MP snapper, on the other hand, boasts a 120-degree field of view which means you can fit more people into a standard selfie shot.
Switching between the two is as simple as pressing a button and we got good results in terms of both clarity and decent colour accuracy. There's a skin softening effect that's turned on by default that can make one's face look a bit unnatural so we turned that off.
This rear camera setup from Sony is a different tack than other manufacturers like Huawei, for instance, who have instead used a dual-camera setup to take improved portrait or bokeh-style photos.
SCREEN & SOUND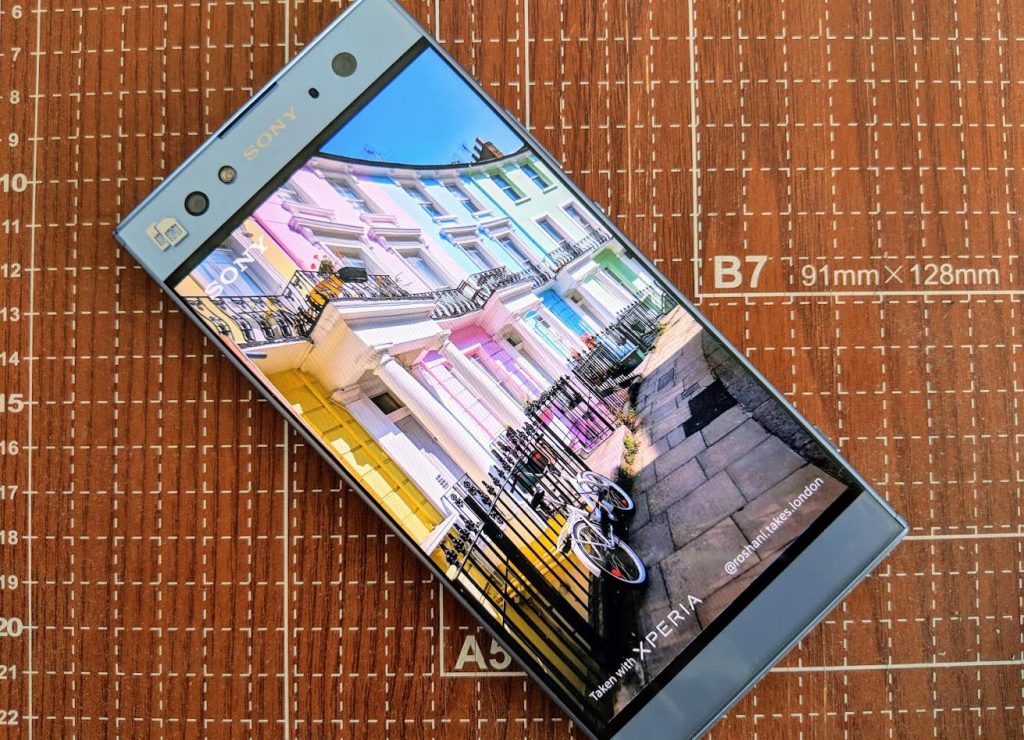 OK, so the 6in display doesn't do anything fancy, sticking to a tried-and-tested aspect ratio and Sony's bulging top and bottom bezels. It doesn't look as fresh as the 18:9 aspect phones currently doing the rounds, but it does have that lovely great size going for it if that's your preference.
It's resolution where Sony has made improvements. Last year's XA1 made do with a 720p screen, but here you get a Full HD panel. It makes all the difference, with clearer text and more detailed images. Stretched across 6 inches, you have to press your nose against the screen to spot the individual pixels.
Contrast from the LCD panel was never going to be as good as an OLED screen, but the XA2 Ultra still manages to impress, with deeper blacks and better gradation that we were expecting for the cash. Brightness is great, too, although it can still be a struggle to see what's on-screen clearly when you're outside on a very sunny day.
Colours are where things fall down. Things just aren't as punchy or vibrant as we'd like, with whites that lean more towards the blue end of the spectrum. Sony's image processing gives things a boost when you're watching video or in the photo album, but reds could still use a bit more definition and clarity.
Even so, this is still a screen that punches above its weight for the money.
That's true of the speaker, too. It gets up to a decent volume, hits all the right notes and doesn't distort. Headphones are still the way forward for critical listening, but it's fine for catching up on YouTube clips.
SOFTWARE & OS
Sony's spin on Android has been given a few tweaks and changes, but beyond a slightly different app drawer and new icons on the Settings screen, it feels almost identical to Google's stock version. Which is most definitely a good thing.
It's all based on Android Oreo, putting the XA2 Ultra ahead of plenty of flagship phones still waiting for an update.
The XA2 Ultra does well to cut down on the bundled apps, too, leaving you with more of the 32GB of built-in storage to play with. There's a microSD card slot if you need to add more storage later, too.
There are a few black marks, though. The pre-installed AVG antivirus with a permanent notification you can't get rid of? No thanks, Sony. Switftkey is installed by default, too, but swapping it out for the excellent Google Gboard just takes a quick trip to the Play Store.
Sony's own Music, Video and Gallery apps are here, as usual, but you don't get any of the funky face-scanning tech you'd find on the more expensive XZ1 – that would be asking too much of the mid-range hardware.
PERFORMANCE & BATTERY LIFE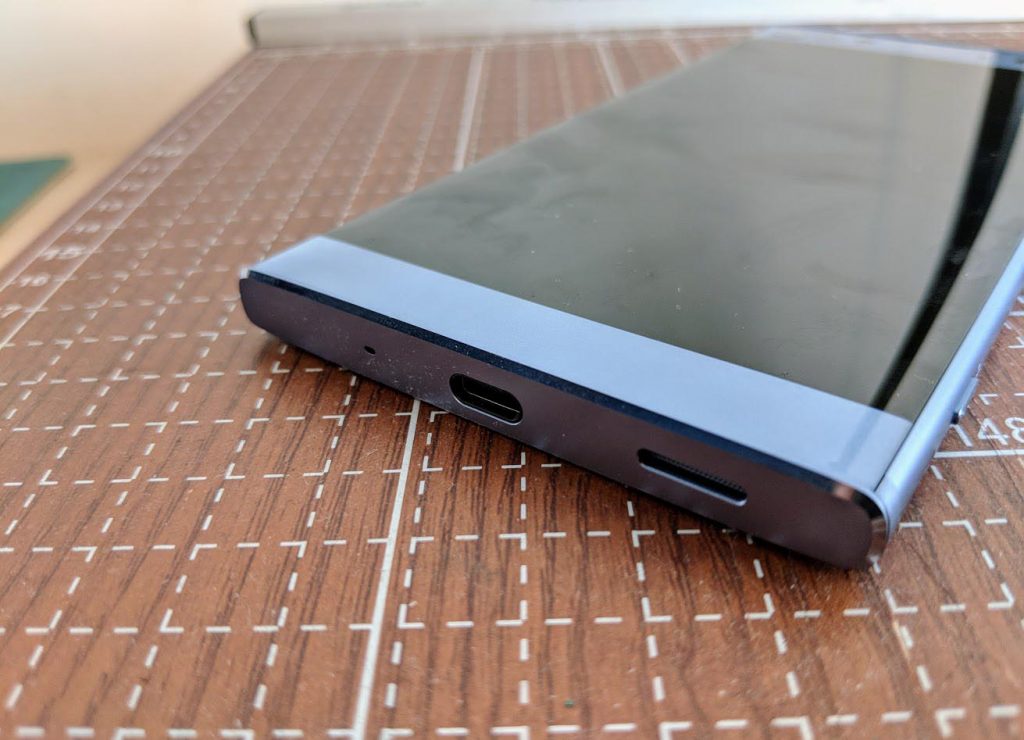 Last year's Xperia XA1 was sorely down on power, on account of a sub-par Mediatek CPU that just didn't have any grunt. Sony has stepped things up for 2018, and it has made all the difference.
The XA2 Ultra uses a much speedier Qualcomm Snapdragon 630, a chip that delivers smooth performance across the board. It might not be an outright powerhouse like the top-spec Snapdragon 835, but it's still perfectly capable of handling your everyday apps.
Case in point: Android Oreo runs pretty flawlessly, even with Sony's familiar Xperia UI running on top. Apps open reasonably quickly, image-heavy websites don't chug too badly, and even demanding tasks like augmented reality and Lightroom image editing feel responsive. It's not completely perfect, but it's a massive improvement over the outgoing phone.
Multitasking doesn't seem to be a problem, with 4GB of RAM getting the job done, and games run pretty well, too. Play anything too strenuous and the frame rate gets a bit choppy, and Real Racing 3 takes quite a while to load, but most games are playable at smooth fps.
Battery life is a bit of a corker, too.
Sony promises "all-day" use from the 3850mAh cell, but you can easily last until the next morning if you don't hammer the power-intensive apps and games. Our version of 'general use' is a bit more demanding, but the XA2 Ultra easily made it into the next day, even with some gaming, snapping photos, streaming music and watching YouTube clips, as well as some social scrolling.
You don't get fancy extras like wireless charging here, but it will happily fast charge if you hook it up to a friendly adaptor.
SONY XPERIA XA2 ULTRA VERDICT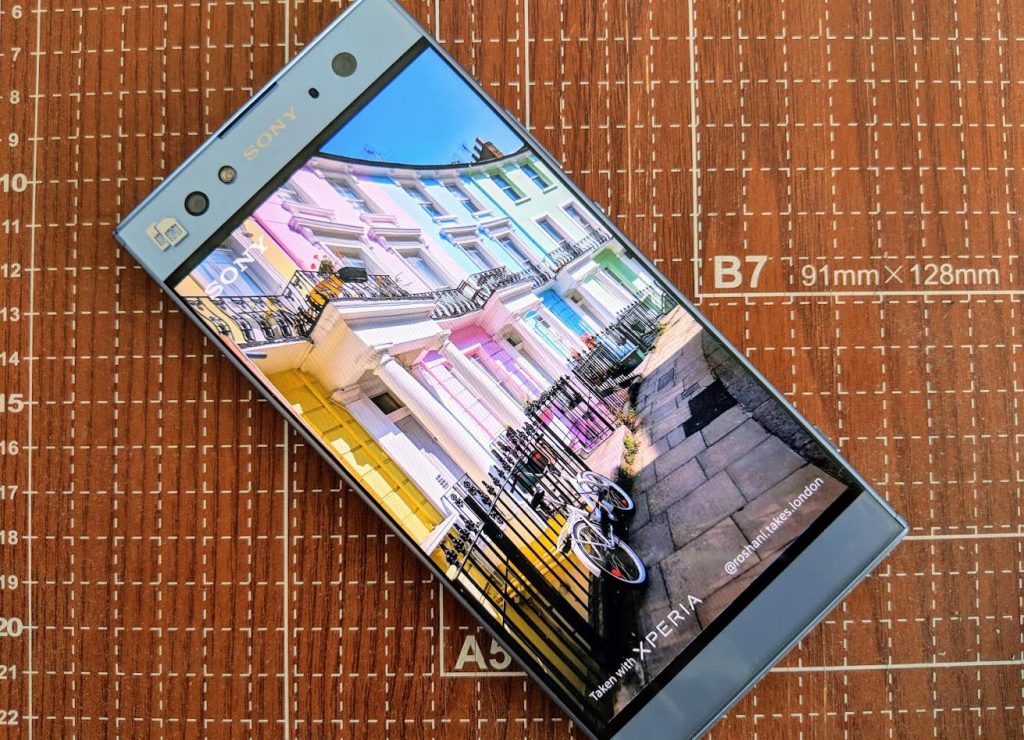 The XA2 Ultra could have been another fairly forgettable mid-ranger, but Sony has taken last year's XA1 as a starting point and fixed just about all the complaints we had with it.
The XA2 Ultra has a much more capable CPU, so your apps and games are much smoother. The screen resolution finally puts it on par with the similarly-priced competition, and battery life is very good as well.
Those looks are starting to age, admittedly, but it has a certain appeal if you'd like your budget phone to look like a much more expensive one.
There are plenty of phones in the this price bracket right now, and a lot of 'em have more modern designs, so it's great to see Sony get the price right, and for that they are to be commended.
STUFF SAYS
Score: ✭✭✭✭✩
Probably the best mid-ranger Sony has made in a while, the XA2 Ultra might not mix up the traditional Xperia look but it has hardware that ticks almost all the boxes
Comments
comments