Apple and Samsung have waged war in the smartphone space for years and years now, and the recent battle between the iPhone X and the Galaxy S8 was arguably the best showdown to date.
Well, until now: Samsung has gone one step further with the new Galaxy S9. Granted, on the surface it's not that dramatic of an upgrade – nips and tucks, and incremental enhancements over last year's edition. But every bit counts when we're talking about fighting for your several hundred quid, not to mention your everyday attention.
Which is the must-have handset this spring? Here's what we think now that we've put the Galaxy S9 though our review gauntlet.
DESIGN: EYE-CATCHING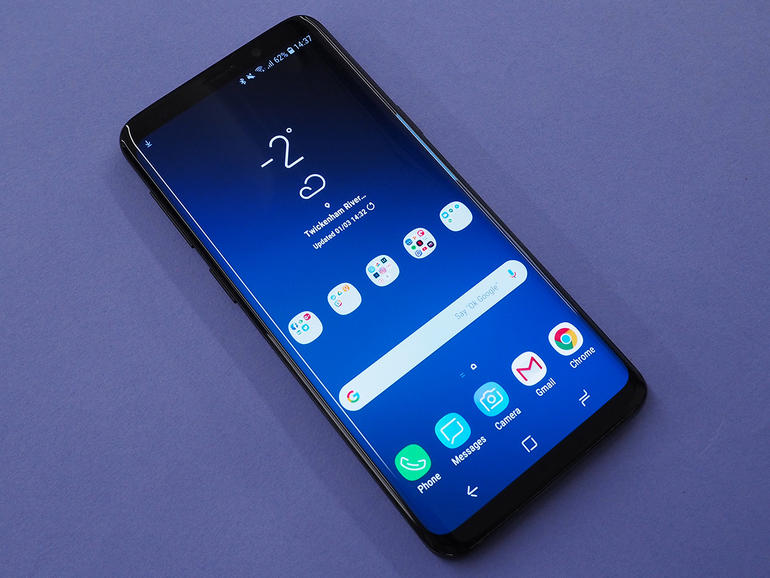 When it comes to looks, you really can't go wrong with either of these handsets: they're two of the most striking smartphones on the market today. But they are very different.
Both have screen-centric designs, but the Galaxy S9 opts for a small bit of bezel on the top and bottom, while the screen itself curves on either side. Meanwhile, the iPhone X has that uniquely infamous notch on the top, but the upside is that there's very little bezel otherwise as the screen fills the entire front frame.
They're both beautiful, and both look luxurious and feel as expensive as they actually are. It's really up to your personal preference. The Galaxy S9 is essentially identical to last year's edition, aside from fixing the awkward fingerprint sensor placement from before. Meanwhile, the iPhone X still feels like a one-of-a-kind… although the clones are coming.
Verdict: Draw
SCREEN: THEY'RE CLOSE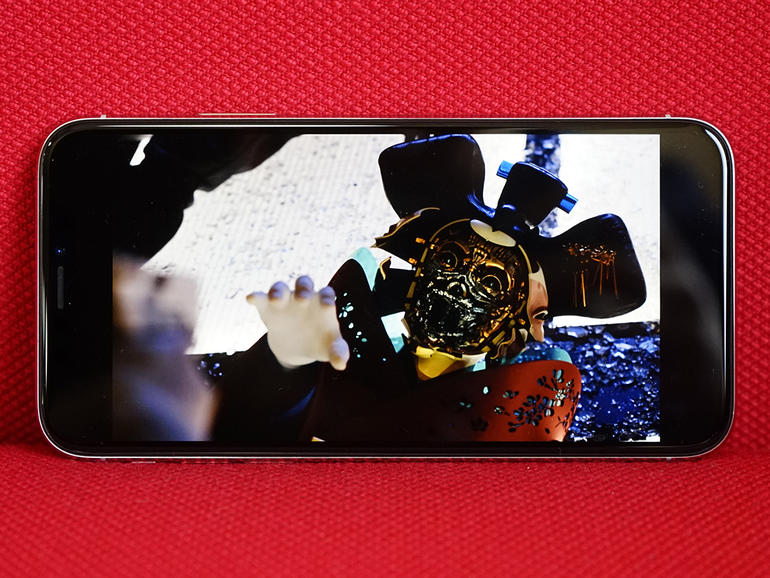 The Galaxy S9 doesn't make any huge leaps from the 5.8in Super AMOLED Quad HD display on the Galaxy S8. This is not a problem at all. The Galaxy S8's screen was arguably the best around last year, and this one gets about 20% brighter and has even better colour accuracy than before. It's the new standard for smartphone screens.
On the other hand, the iPhone X screen is almost on the same level as Samsung's own handsets. In fact, the panel is manufactured by Samsung!
Apple's OLED screen is a bit lower on resolution (it's 1125p compared to 1440p, or 458ppi vs 571ppi) but looks super-crisp in person, plus the colours are spectacular and the True Tone tech keeps them lifelike in all scenarios. It also has 3D Touch pressure-sensitivity – not the biggest enhancement, but it's a handy benefit.
There's no great margin here, but the Galaxy S9 comes out a smidge ahead thanks to the higher resolution.
Verdict: Samsung Galaxy S9
CAMERA: SHARPER SHOOTERS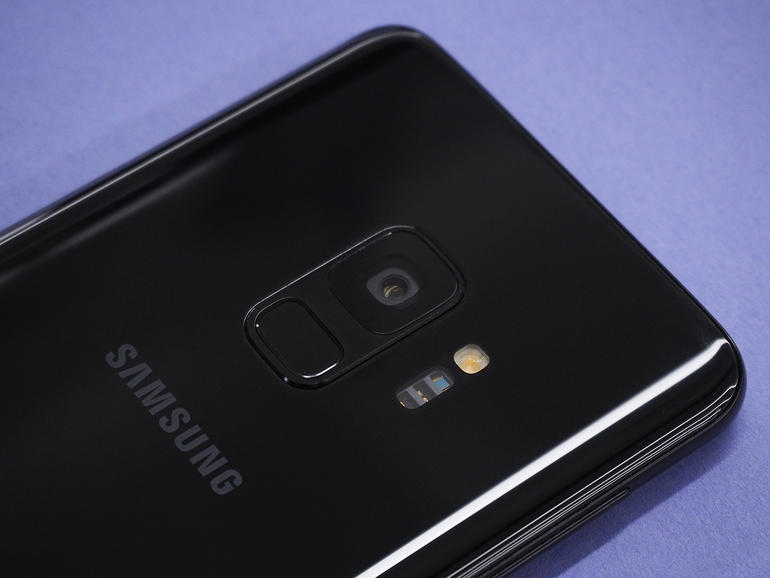 The Galaxy S8's camera was excellent, and the S9's new features are pretty compelling. The standard S9 sticks with a single 12-megapixel back camera sensor, but now it has a wider f/1.5 aperture to pull in loads more light. You'll definitely see a difference on low-light shots, which are significantly clearer and sharper this time around.
And interestingly, the Galaxy S9 brings in an innovative new adjustable aperture feature, which automatically shifts to f/2.4 when there's enough light for the shot, thus allowing for better exposure and more detail. You can also control the switch manually in Pro mode. Also, the 960 frames-per-second slow-motion video recording is pretty amazing.
Meanwhile, the iPhone X uses a dual-camera setup, with a pair of 12MP sensors: a wide-angle at f/1.8 and telephoto at f/2.4. You'll see more saturated colours, plenty of dynamic range, and crisp shots thanks to optical image stabilisation on both sensors. They can feel a little oversaturated at times, but overall the results are fabulous. And you get the iPhone X's dual-camera perks, such as blurred portrait shots and bokeh effects.
Overall, they're incredibly close. The Pixel 2 and Pixel 2 XL still have our absolute favourite smartphone shooters today, but the iPhone X and Galaxy S9 both come in very close behind.
Verdict: Draw
PERFORMANCE: BIONIC POWER
Here's one area in which Apple maintains the advantage, at least when it comes to raw benchmark stats. The iPhone X's A11 Bionic chip is an absolute beast, towering over last year's Android competition by a dramatic margin. Geekbench scores show single-core performance of 4,204 and multi-core performance of 10,112.
Geekbench hasn't added scores for the Galaxy S9's new Exynos 9810 chip in the Middle East, or the Qualcomm Snapdragon 845 chip used in the States – but AnandTech did its own battery of tests on the devices. And the iPhone X comes ahead in every single test that it's in, reigning above both of the Galaxy S9 variants.
Both the iPhone X and Galaxy S9 are super-fast handsets that can handle whatever you throw at it rather swiftly, whether it's apps, games, media, or multitasking. But the iPhone X has more power to play with overall, and it looks like Apple's unified hardware and software approach is really paying dividends right about now.
Verdict: Apple iPhone X
BATTERY AND PERKS: PERKS APLENTY
When it comes to battery capacity, the Galaxy S9 packs in about 10% more than the iPhone X – 3,000mAh instead of 2,716mAh. The Galaxy S8 had the same tally, though, and there's no huge difference between those handsets: both can last throughout the day with solid usage, although you could certainly push both to the brink sooner with lots of apps and games. The iPhone X is about the same, really.
Both also offer wireless charging, so that's a plus. Both also have fast charging available, although Apple's solution requires a special USB-C to Lightning cable and a USB-C power adapter that supports USB power delivery. Also, Samsung's is twice as fast.
The Galaxy S9 also has a microSD slot for expandable storage, while the iPhone X just sticks with the internal cache you paid for. You'll get 64GB inside the S9, and you can choose between 64GB and 256GB models for the iPhone X.
Apple's TrueDepth sensor is one of the big highlights of the iPhone X experience, providing everything from impressive Face ID security to goofy, animated Animoji that mimic your own facial movements. The Galaxy S9 still has a fingerprint sensor, now with a more comfortable positioning below the back camera, plus it offers facial security and Samsung's own take on animated emoji. Apple's facial scanning and emoji are both smoother here, although Samsung's will do the trick.
Samsung also has a couple of exclusive perks of its own: Gear VR and DeX Station support. The Gear VR is Samsung's pretty great mobile virtual reality platform, wherein you strap the Galaxy S9 into a headset shell and then immerse yourself in games and apps.
The DeX Station isn't quite as exciting, but it could bring a practical boost for some users: you can use it to attach an external monitor to your smartphone and use it like a proper PC. And the new DeX dock for the Galaxy S9 actually lays the phone flat, letting you use the screen as a touchpad or keyboard as needed. That should make it a lot more worthwhile than the so-so original released with the S8.
Oh, and the Galaxy S9 keeps the 3.5mm headphone port. The iPhone X doesn't have that. Overall, we see more practical and beneficial advantages with the Galaxy S9 here.
Verdict: Samsung Galaxy S9
VERDICT: WE SAY S9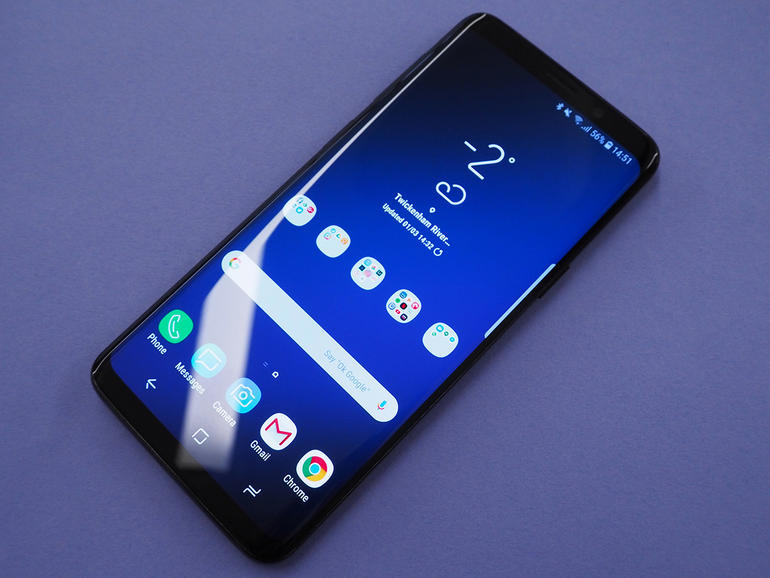 Apple's iPhone X is one hell of a smartphone, and if you want the best of the best from Apple, it's the phone to get. Likewise, if you don't have OS loyalties and have a thousand bucks to burn on a super-premium phone, it really does live up to the hype.
However, most people don't want to spend $999+ on a smartphone – and we don't blame you at all. Apple's phone remains out of reach for a lot of buyers, the Galaxy S9 is a bit more approachable. And in all the ways that count, it's just as good of a phone… and even better in some ways.
The iPhone X wins on processing power while the Galaxy S9 comes slightly ahead on screen quality, while design is subjective (both are wonderful) and the camera battle is close enough to call about even. Samsung has lots of perks that Apple lacks, though, and Apple's own perks don't necessarily warrant the extra £260 in the opposite direction.
If money is no issue at all, then we have no trouble recommending both of these headsets. But the Galaxy S9 is the better option for most buyers, providing a top-tier flagship experience for quite a bit less cash. And even if the price points were all even, we still think it would take the nod here. It's our new favourite phone in the world, landing ahead of the iPhone X.
Verdict: Samsung Galaxy S9
Comments
comments